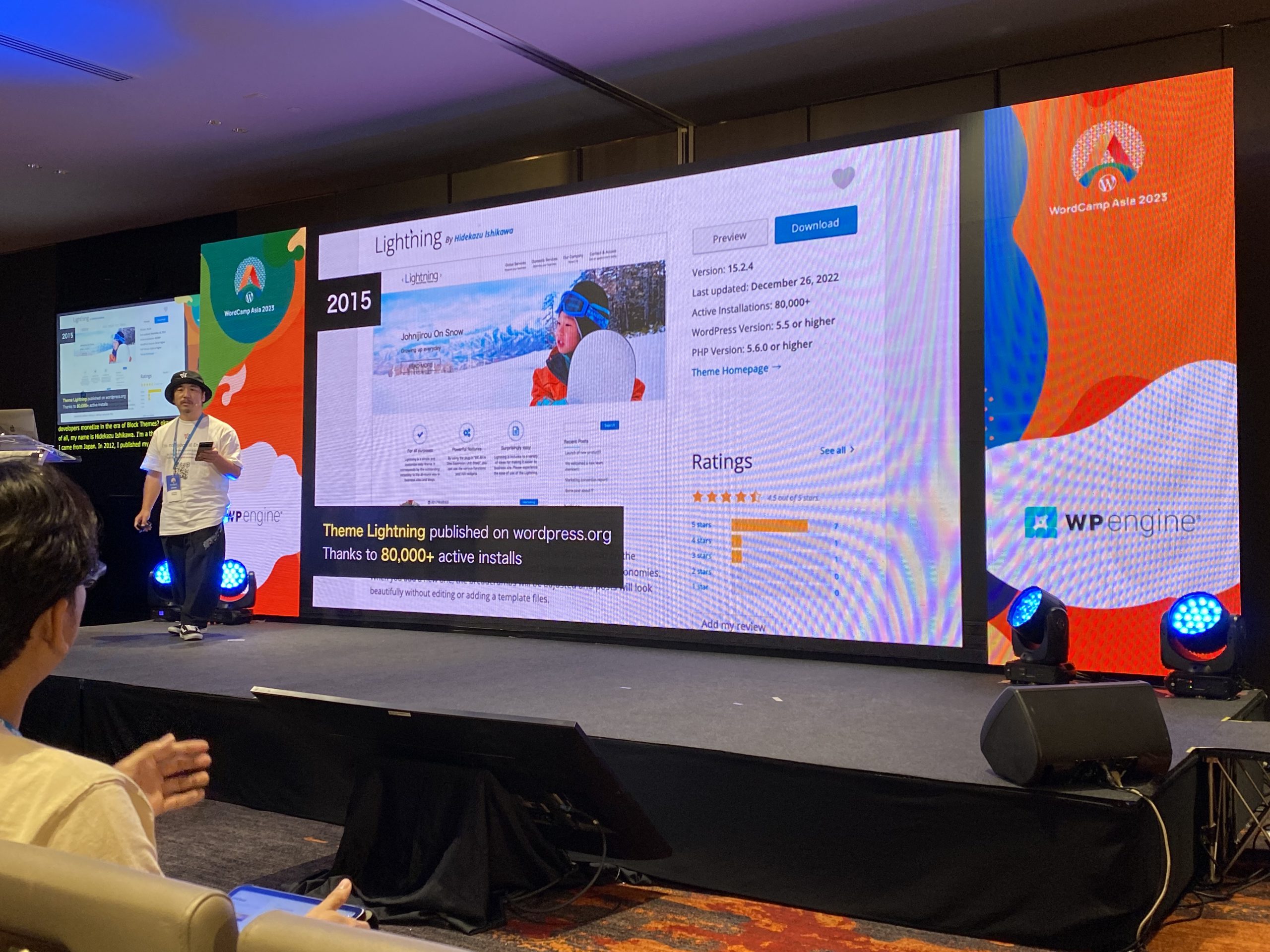 About speaking at WordCamp Asia 2023
This time, I was fortunate enough to have the opportunity to be on stage, and I was able to gain a lot from actually being on stage.
I would like to look back on the matter in order.
Reason for applying
Trigger
I had been thinking about applying to be a speaker this time as well, but since I had a major problem with my English ability, I was not positive about speaking on stage.
However, WordCamp Asia tickets were very popular that it sold out quickly…。
So I can't say it out loud,
There was no other way to participate in WordCamp Asia other than applying as a speaker.
This was the case…(=w=;
---
About application
Application
Take myself to the next stage
That said, I don't think it would be possible for someone like me, who can't speak English on a daily basis, to give a presentation in English. Seriously impossible.
However, another Japanese speaker, Mr. Okamoto from Stripe, has a track record of speaking at overseas WordCamps in the past, even though he cannot speak English.
* During the question and answer session, it seems that he was stuck because he couldn't understand the question in English at all…
If he did it, but I didn't, it would be an 'escape', wouldn't it?
If I remember correctly, at that time, Mr. Koga, the CEO of Digital Cube, which he belonged to at the time, told him something like, "If you're going to be on stage, I'll cover your travel expenses."
But I'm old and I'm the company president, so no one would say that to me anymore.
That's why I can't move forward without jumping in from myself.
And those of you who read this and thought, "Oh, it might be interesting."
It's your turn next time.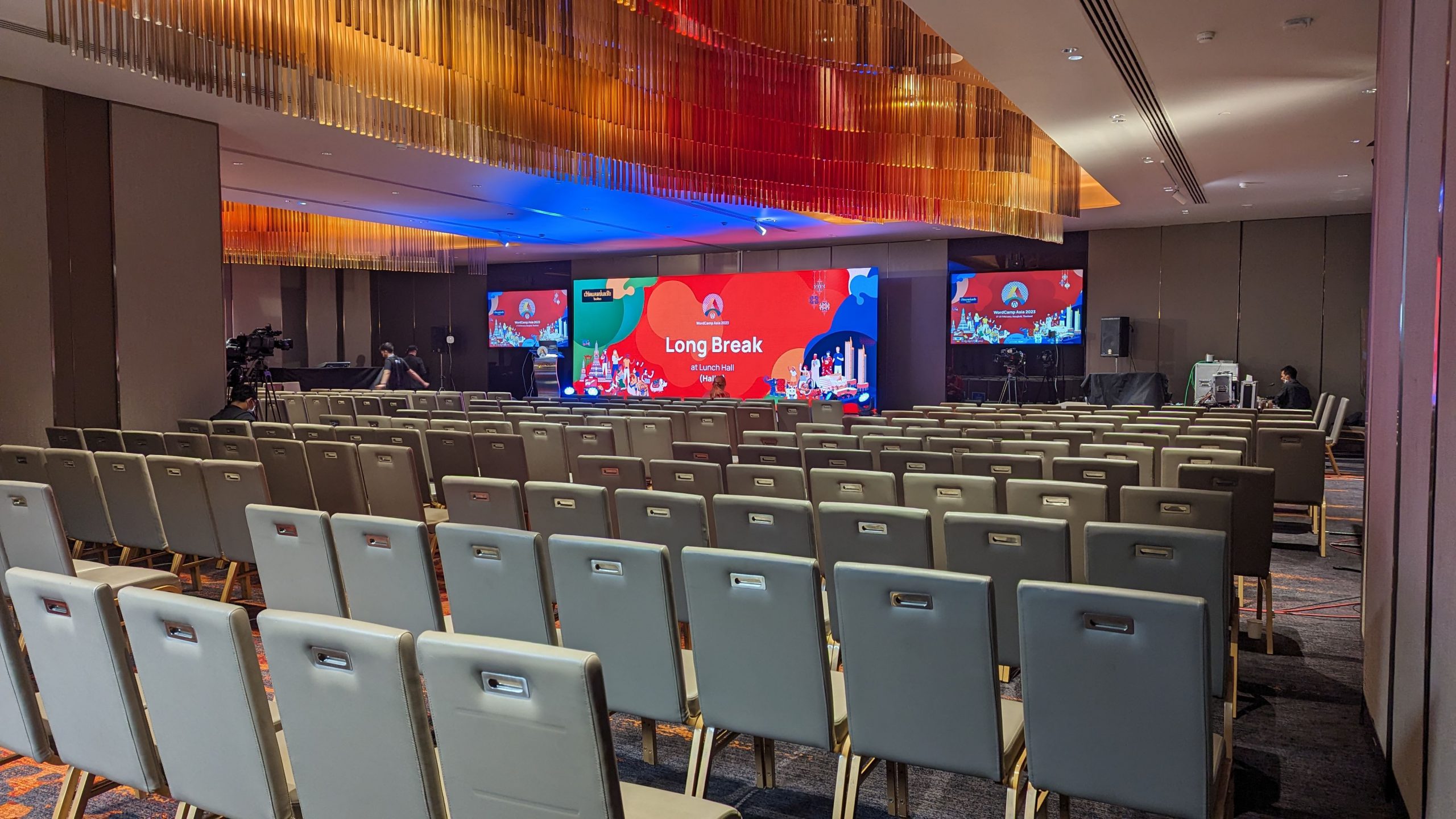 I want to show the presence of the Japanese community
I had many friends on the organizers of WordCamp Asia. Of course, they don't tell me the details at all, but along the way, I heard that there were a lot of applicants from English-speaking countries and there weren't many Asian speakers.
Yes, WordCamp, if it's a Flagship WordCamp, we have entries from all over the world.
However, since it is conducted in English, the number of Asians naturally decreases sharply when it comes to people who can make presentations in English.
As someone who has been involved in the Japanese WordPress community for more than 10 years, it's regrettable that there aren't many Asian speakers at WordCamp Asia, let alone that there are no Japanese speakers.
This time, the global lead is Naoko, and there are many Japanese on the organizers, so of course we can show the presence of the Japanese community, but I would like to see some Japanese speakers as well.
It was a little surprising to me, I had the mind that "Showing off the presence of Japanese community to the world!" rather than the mind of "I want to be a speaker at the session!".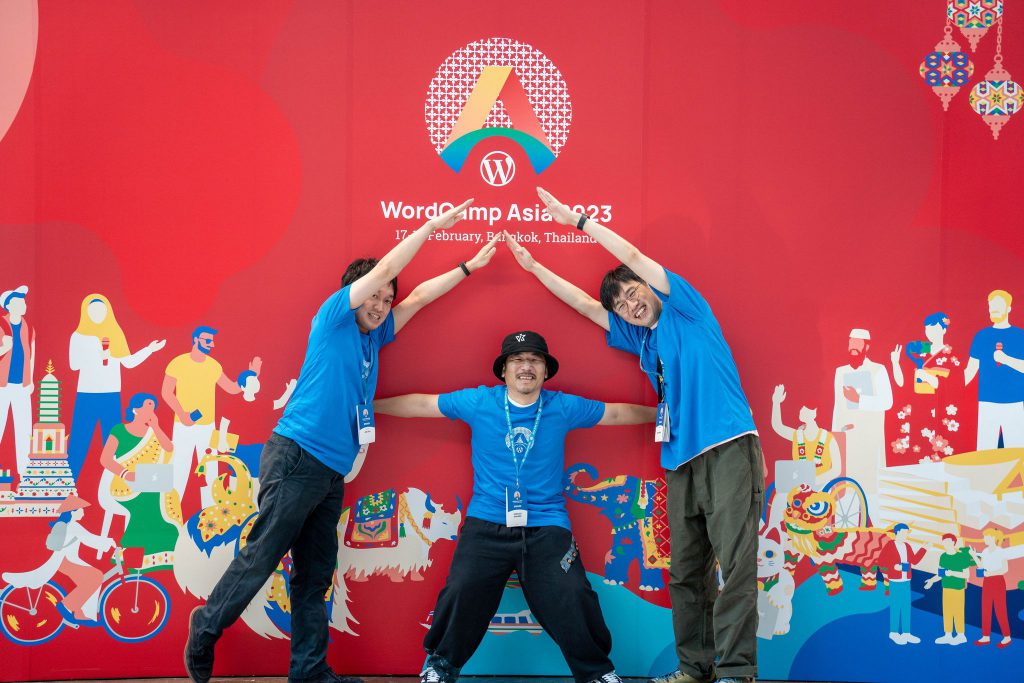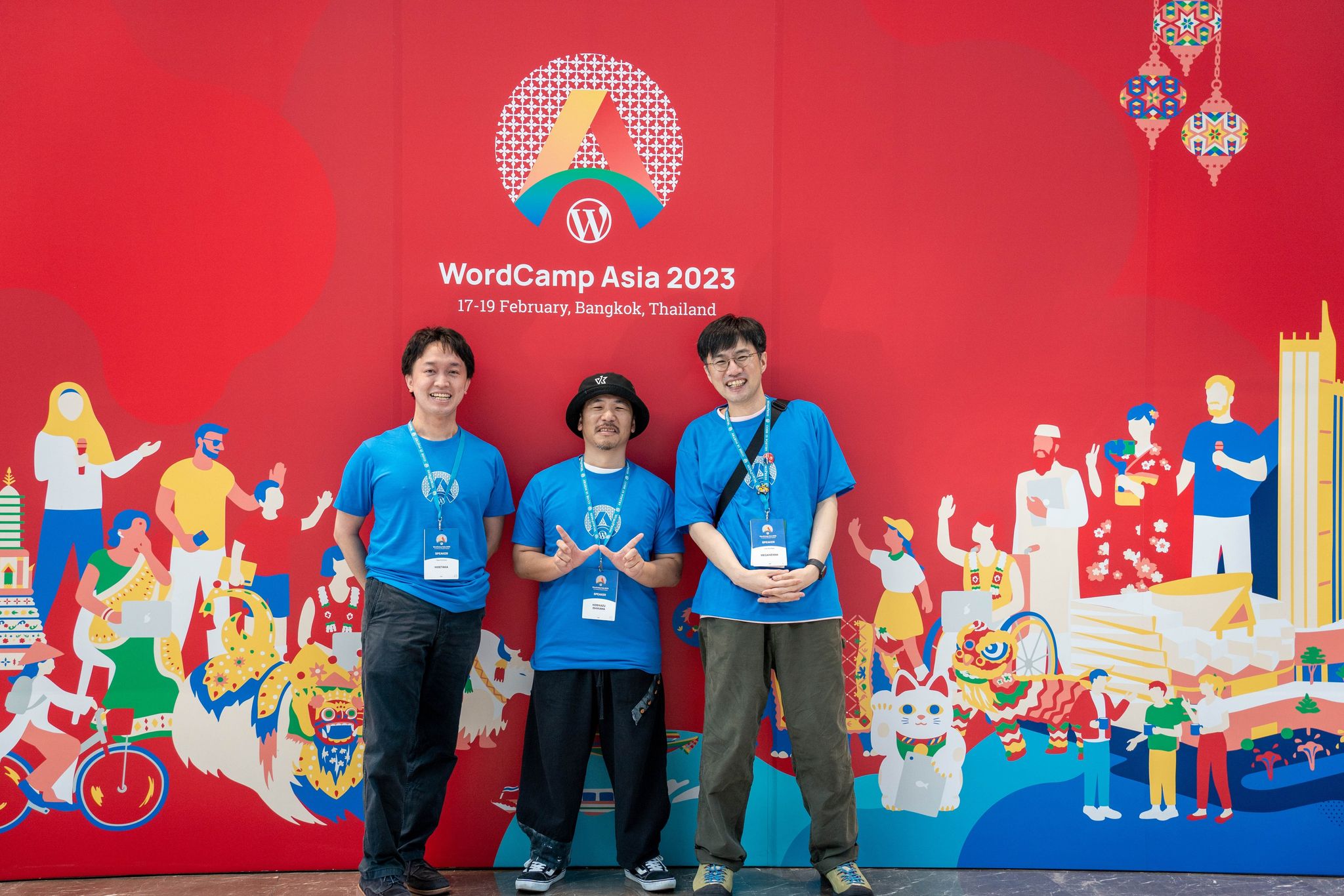 State of mind
The feeling of facing the stage
Anyway, I'm a coward who admits to myself and others that I'm very negative about trying things for the first time. Before going on stage, I was scared and practiced all the time.
I said things like, "No, no, I'm really nervous," but everyone around me said,
"No, Mr. Ishikawa, you're fine. You can go."
Everyone had confidence in me and recommended me, saying, 'You can do it, Mr. Ishikawa,' and they sent me out, but I cannot expose the shame of Japan by making an unreliable presentation.
Also, on a personal note, the day before I went on stage, my wife sent me the tragic result that "the test result for my second son's cram school was a 'deviation value' of 23.5", and I was dizzy…
My second son who usually plays games and watches YouTube and doesn't study at all. I want to show him that your father, who is always at home and hangs around in his underwear, is actually a capable man.
I'm a shy person, but at the same time I'm actually a show-off person, so I was thrilled to be on a stage like this.
I think it was quite good mentally because there was enough waiting time at the venue and I was able to practice all the time and was rather bored with the practice.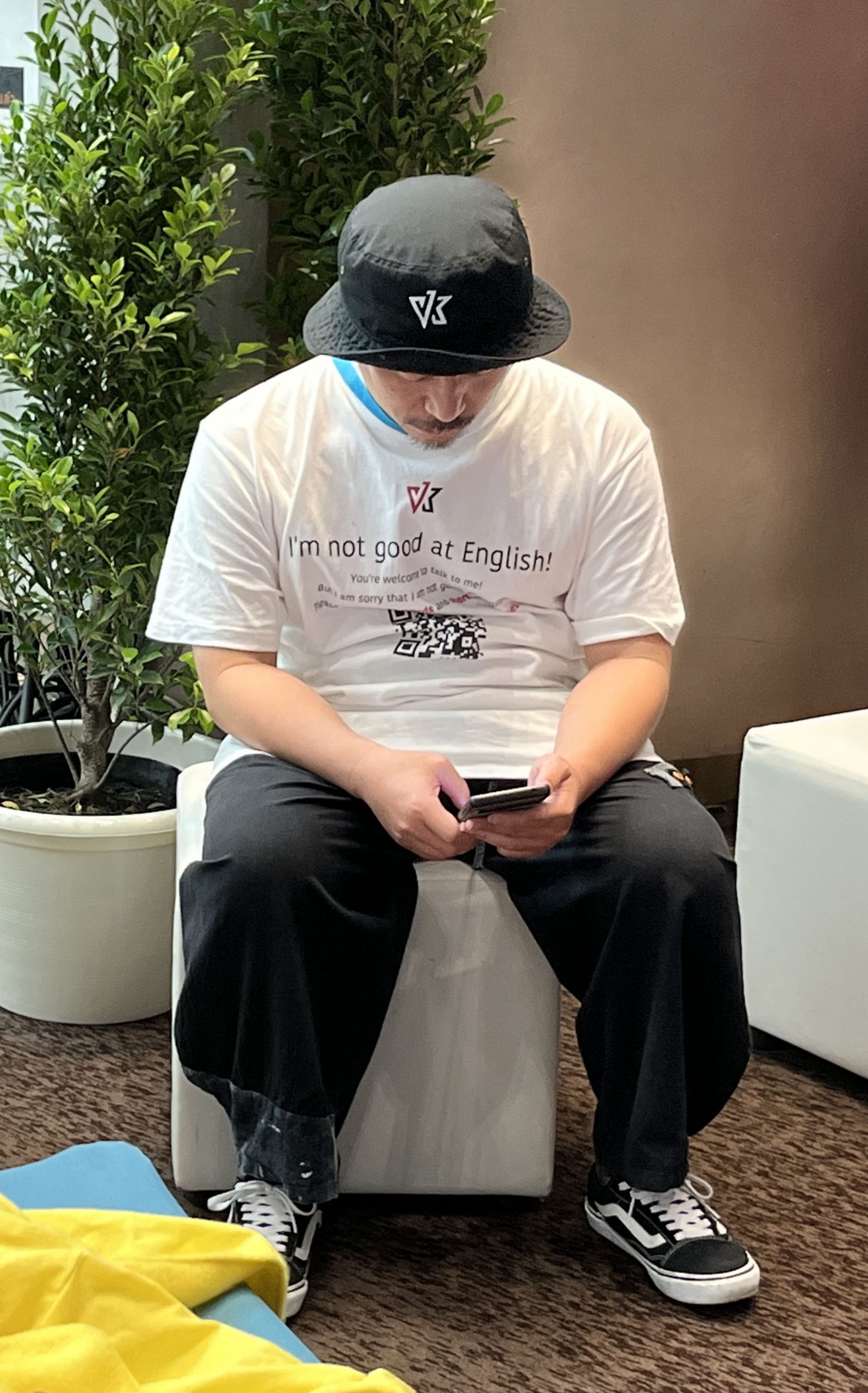 After finishing the presentation
thoughts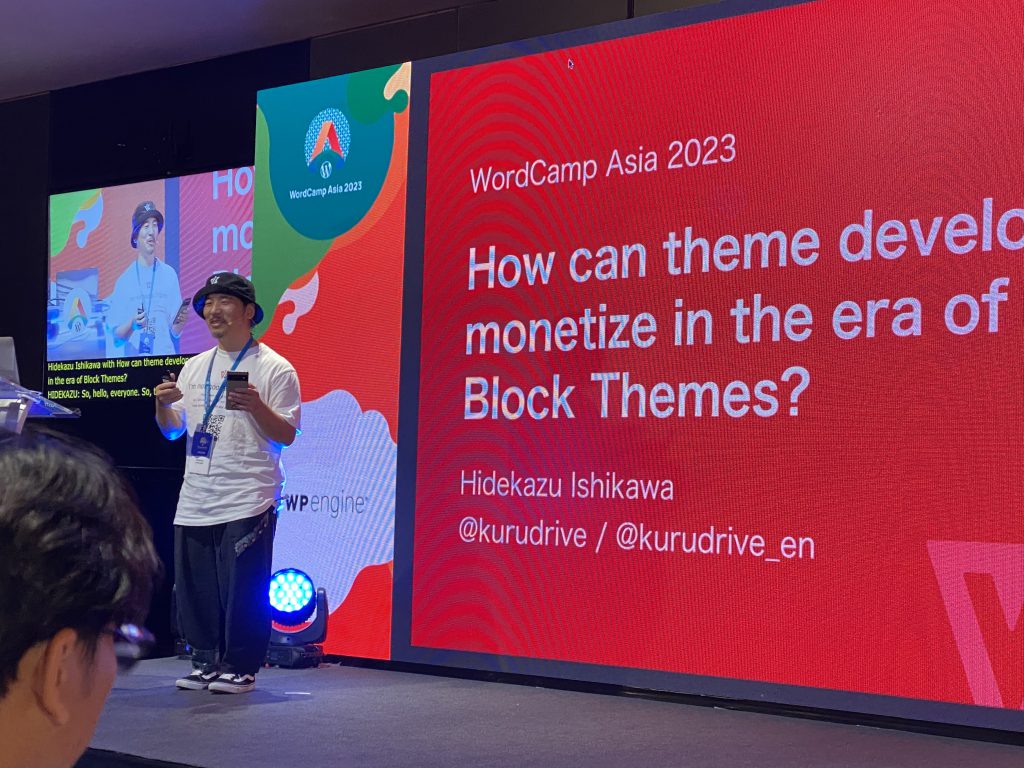 I am sorry that I am looking at the read-out manuscript too much, but anyway, I am glad that the presentation was successfully completed without any major problems.
After my presentation, a well-known person from overseas, whom I had never met, tweeted about my presentation and said, "Your presentation was good." Some people contacted me via Slack and said, "I want the slides of your presentation".
At the after party, one person said to me,
"Your presentation was the best session I've seen at this WordCamp Asia".
I was so happy to hear that.
In fact, it took a lot of time from application to presentation, so when I think about the cost-effectiveness… However, this kind of experience is priceless.
I think it's a value that money can't buy.
This is mainly what Mr. Ohgushi was saying, but when we saw WordCamp EU in 2019, we thought, "This is a great event," and we were looking at the stage. The people who organizing this are really amazing.
But this time, many Japanese friends are involved in running this wonderful WordCamp. And I think it was a real honor to be on the side of "climbing the stage".
Thank you very much to Chiaki-san and Shusei-san who strongly encouraged me to be on stage, and to everyone in the Japanese WordPress community who supported me!
I did it!!